Eighth President of the University of Virginia. Photo by Sanjay Suchak.
In 2010, Teresa A. Sullivan became the University of Virginia's eighth president and its first female President. During her eight-year tenure, she led UVA through a period of significant progress. Go to the President Emerita page.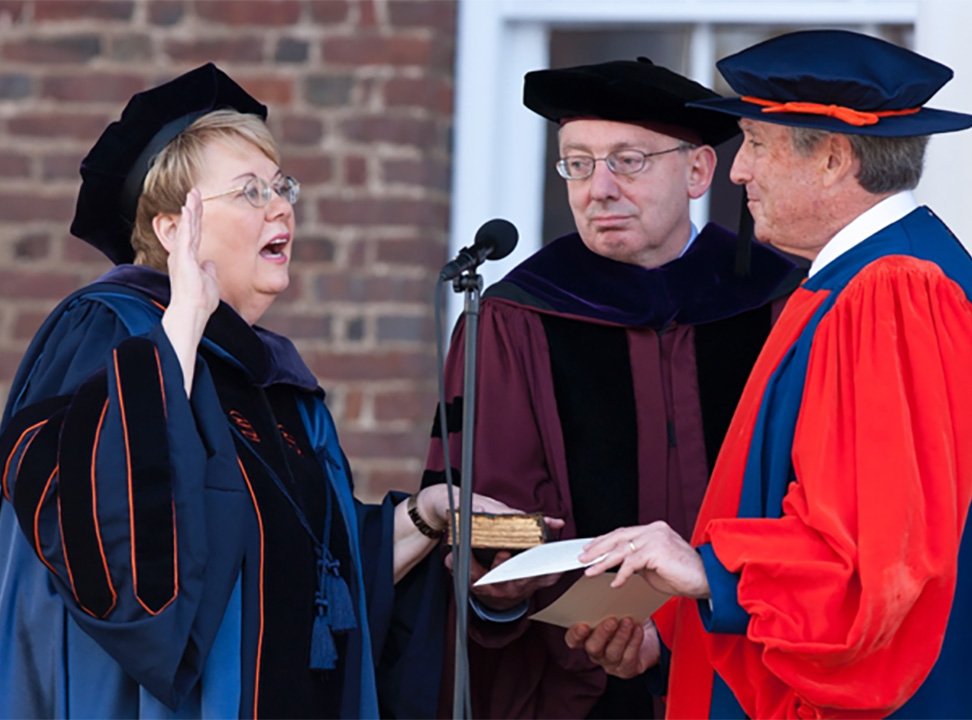 Teresa A. Sullivan was inaugurated as UVA's first woman president in April 2011. Her husband, law professor Douglas Laycock, center, joined her as then-Rector John O. Wynne administered the oath. Photo by Dan Addison.
Executing the Cornerstone Plan
With input from more than 10,000 constituents, President Sullivan produced a strategic plan for the University named the Cornerstone Plan. The plan is now fully implemented and shaping UVA as it enters its third century. Among the plan's successes include an endowed Data Science Institute, a major in Global Studies, and a minor in Entrepreneurship. The University overhauled its academic advising, and launched the Meriwether Lewis Institute for Citizen Leadership. Additionally, the University developed a new financial model to ensure stability and transparency, launched a substantial program in Organizational Excellence, and created a program to expand the full-time faculty in multidisciplinary clusters.
Recruiting Distinguished Leadership
President Sullivan forged a collaborative leadership style by recruiting talented executive vice presidents to oversee academics, operations, and health affairs, building a team of experienced vice presidents and deans, and instilling a broad culture of leadership at every level of the University. Members of her leadership team included executive vice president and provost Tom Katsouleas, executive vice president and chief operating officer Pat Hogan, executive vice president for health affairs Dr. Rick Shannon, and vice president for advancement Mark Luellen.
Bringing the Best Faculty to UVA and Expanding UVA's Research Enterprise
President Sullivan focused intently on building faculty excellence. She proposed an aggressive plan to elevate the average annual UVA faculty salary to the 20th rank among Association of American University (AAU) peers, and she reshaped the Licensing and Ventures Group to better protect the faculty's intellectual property while accelerating the commercialization of faculty research.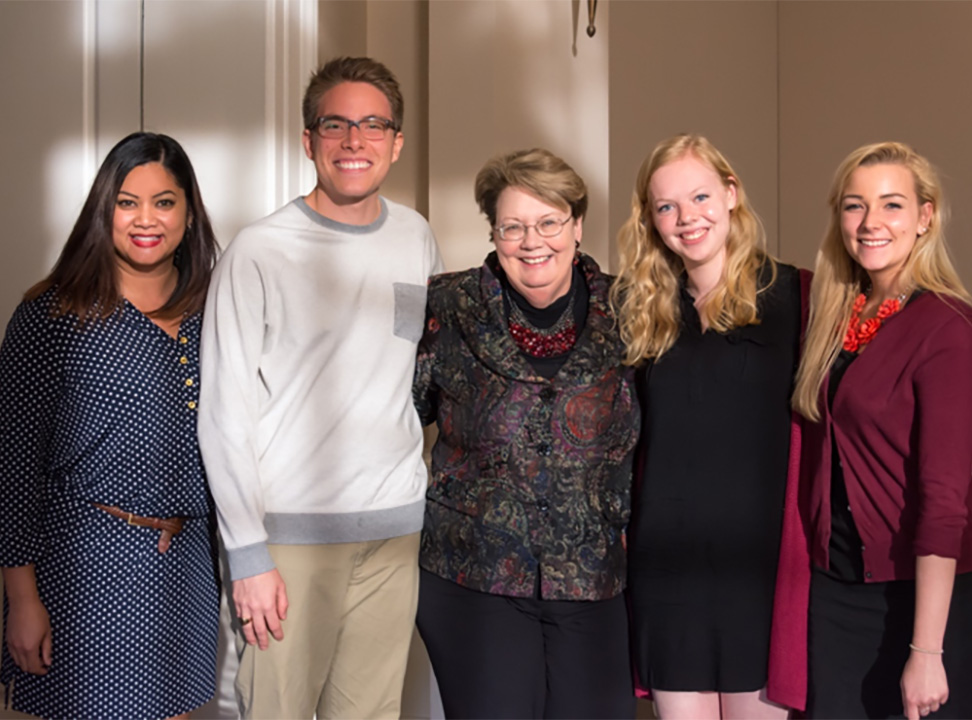 President Sullivan with student interns. Photo by Stacy Smith.
Delivering the Best Student Experience
Enhancing the already distinctive UVA student experience was another priority for President Sullivan. Under her leadership, the University restructured its advising program under the banner of Total Advising, and launched the Meriwether Lewis Institute for Citizen Leadership to equip students with practical leadership skills.
Attracting Investments
President Sullivan assumed office during the Great Recession, which increased the severe financial pressures that already existed in higher education. Through her leadership, the University developed a new financial model to ensure stability and transparency, and launched a program in Organizational Excellence, leading to substantial cost savings across the institution. In 2016, UVA launched a Strategic Investment Fund to provide investments for top priorities to distinguish the University in an ongoing era of financial constraint.
In spring 2013, President Sullivan led the University to completion of its $3-billion capital campaign. Philanthropic cash flow increased from $203.8 million in FY10 to $283.4 million in FY17.
Exploring the Past to Envision the Future
President Sullivan led preparations for the University's bicentennial, which began in October 2017, and the related Third Century Campaign. As part of the preparation for the bicentennial, she led fundraising for the restoration of the Rotunda and launched the President's Commission on Slavery and the University.
The commission's key achievements include: Creating plans for a new Memorial for Enslaved Workers at UVA, now approved by the Board of Visitors, and restoring and commemorating the rediscovered African American Cemetery at UVA. Additionally, UVA named a new dorm Gibbons House, after William and Isabella Gibbons, a couple who were enslaved at UVA and who became community leaders after emancipation; a new administrative building for Peyton Skipwith, an enslaved laborer and stonemason who helped build the Academical Village; and a UVA medical building for Vivian Pinn, a distinguished African-American alumna and doctor.
Enhancing the University's Global Brand
President Sullivan has prioritized global outreach, making numerous international trips to Asia, India, and other important destinations during her presidency, and establishing a permanent UVA office in Shanghai. In her final year in office, President Sullivan launched the President's Commission on the University in the Age of Segregation to study a critical period in UVA and Virginia history, and created the Rural Virginia Initiative to propose solutions to the most pressing problems faced by Virginia's rural communities.
Scholarly Work
President Sullivan is a respected scholar in labor force demography, and the author or coauthor of six books and many scholarly articles. President Sullivan is a Fellow of the American Academy of Arts & Sciences and of the American Association for the Advancement of Science.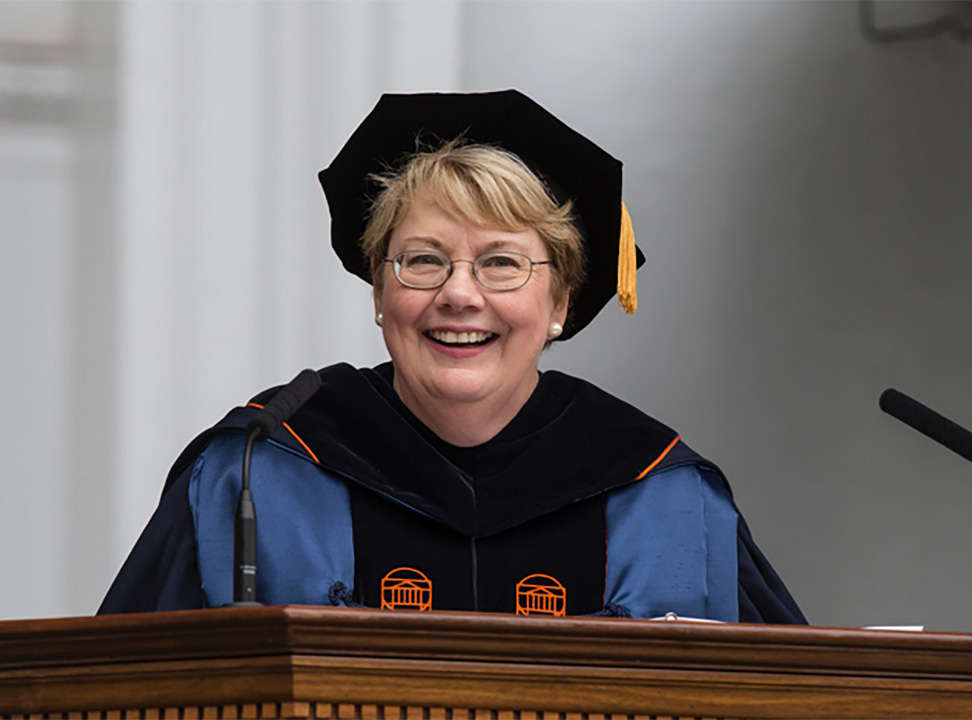 President Sullivan giving remarks during 2013 Graduation. Photo by Dan Addison.
Background
President Sullivan came to UVA from the University of Michigan, where she was provost and executive vice president for academic affairs. Prior to her work at Michigan, Ms. Sullivan was executive vice chancellor for academic affairs for the University of Texas System and a faculty member at the University of Texas at Austin. She is a graduate of Michigan State University's James Madison College, and earned her doctoral degree in sociology from the University of Chicago. She is married to Douglas Laycock, the Robert E. Scott Distinguished Professor of Law at UVA.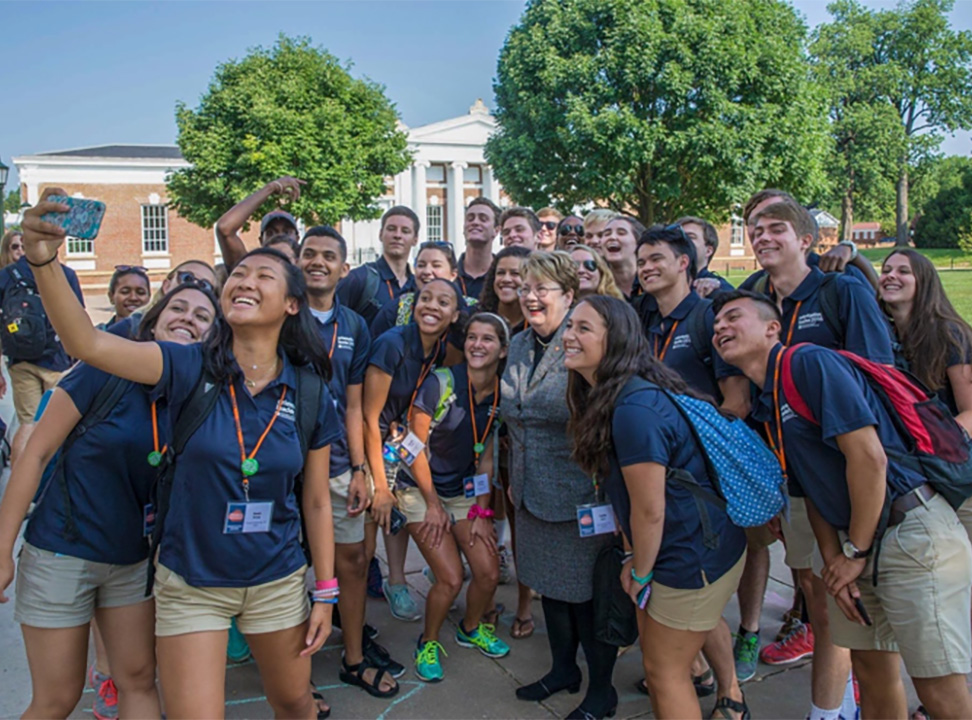 Students gather for an impromptu group selfie with President Teresa A. Sullivan outside Old Cabell Hall in 2016. Photo by Dan Addison.
President Emerita
On June 8, 2018, the University of Virginia Board of Visitors passed a resolution honoring outgoing President Teresa A. Sullivan for her leadership at the University and officially electing her president emerita, effective upon the end of her term on Aug. 1, 2018.
After the resolution passed, Sullivan – who plans to take research leave in Texas with her husband, UVA law professor Douglas Laycock, before both return to the faculty at UVA – addressed the board one final time and issued a parting challenge.
"I want to leave you with an important question, one that you will have to continue to wrestle with in the future," she said. "Can UVA continue to be both public and excellent?"
Many believe that goal is not possible in light of various challenges facing higher education, Sullivan noted. However, she said, UVA has consistently defied that notion.
"In every corner of the University of Virginia, we have said 'no' to mediocrity and 'yes' to excellence," she said. "We must continue to say 'no' to mediocrity, not just once, but continually, making the choice to be excellent day after day, year after year."
"In the days ahead, President Ryan and the members of this board will carry on the necessity of saying 'no' to mediocrity and 'yes' to excellence for UVA," she said. "As you prepare for the hard work ahead, I wish you the very best."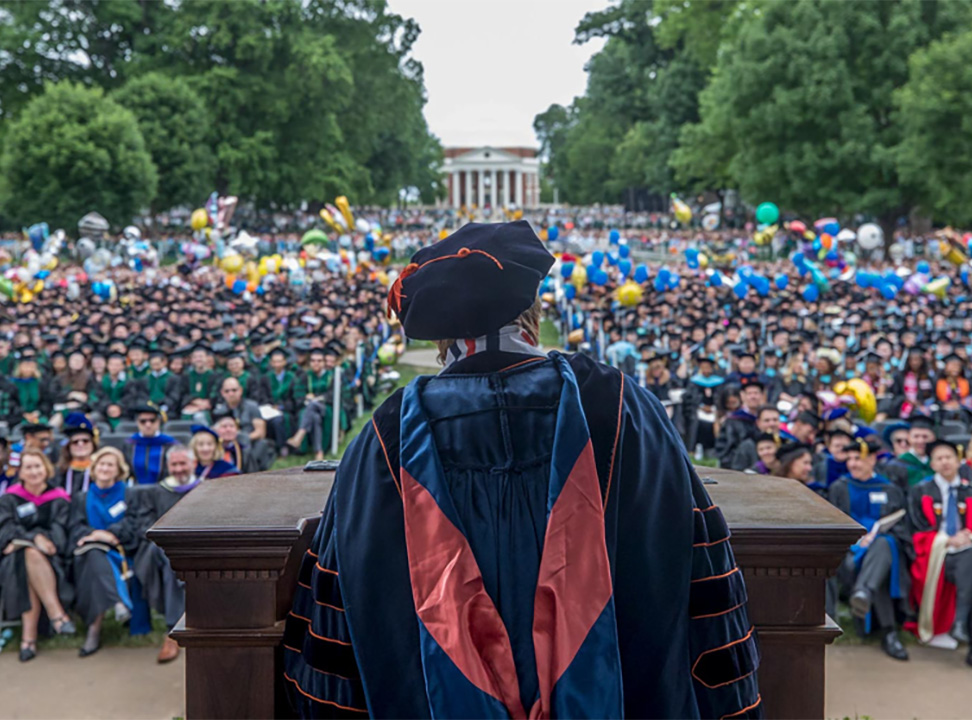 President Sullivan during 2017 Final Exercises. Photo by Sanjay Suchak.
The Sullivan Years
A review of the key accomplishments in major areas of the University's endeavors during the Sullivan presidency from August 2010 to August 2018.